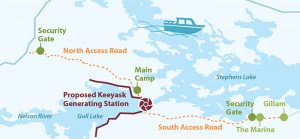 Download the Keeyask Generation Project: Site Access for Resource Users brochure
Safe Ice Trails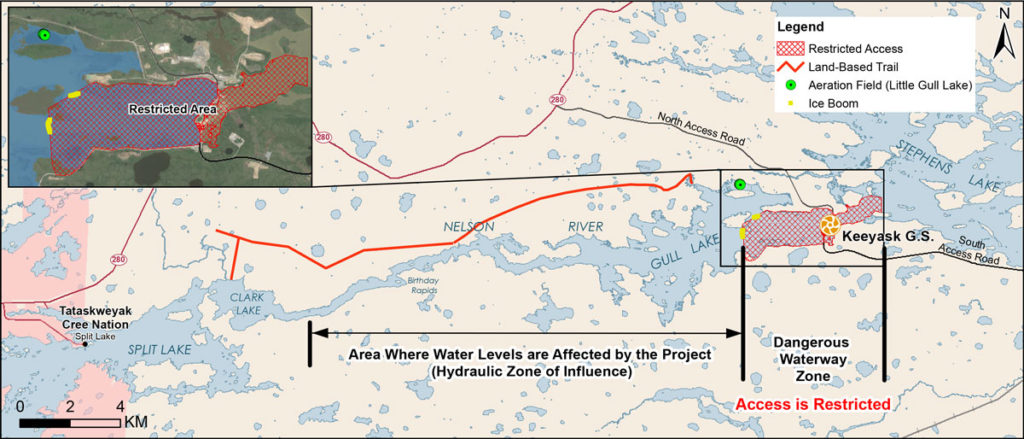 Download map (PDF)
STAY SAFE: Conditions on the Nelson River from Clark Lake outlet to the Keeyask Project site have changed, please travel with caution.
There will be no safe ice trails installed on Gull Lake in 2020-21. During the 2020-21 winter season, a land-based trail will be installed from Clark Lake to Gull Lake on the north side of the Nelson River (see map). Safe ice trails will be installed on Gull Lake once the construction of Keeyask is complete. Local resource users will be contracted to install and maintain safe ice trails during the winter.
Keeyask reservoir impoundment was completed in September. The impounded reservoir now extends approximately 42 kilometres from the Keeyask Generating Station to about 3 kilometres (2 miles) downstream of the outlet of Clark Lake with changes to water levels and flows.
Please watch for safety markers and avoid areas where access is restricted. An aeration system has been installed on the former Little Gull Lake to protect fish from the risk of winterkill. Open water and thin ice will be present in this area and caution is advised.
Resource links: