Final update
Keeyask Project Manager Update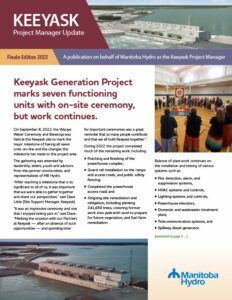 Keeyask Community Newsletter
Finale Edition 2022
Past Keeyask Project Manager Updates
Spring 2022: Keeyask Community Newsletter
Summer 2021: Keeyask Community Newsletter
2020 Summary: Keeyask Community Newsletter
Fall 2019: Keeyask Community Newsletter
Summer 2019: Keeyask Community Newsletter
Spring 2019: Keeyask Community Newsletter
Winter 2019: Keeyask Community Newsletter
Fall 2018: Keeyask Community Newsletter
Summer 2018: Keeyask Community Newsletter
Spring 2018: Keeyask Community Newsletter
Winter 2018: Keeyask Community Newsletter
Fall 2017: Keeyask Community Newsletter
Spring 2017: Keeyask Community Newsletter
Winter 2017: Keeyask Community Newsletter
Fall 2016: Keeyask Community Newsletter
Spring 2016: Keeyask Community Newsletter
Winter 2015: Keeyask Community Newsletter
Summer 2015: Keeyask Community Newsletter
Construction Overview
The Keeyask Generating Station will include the following structures:
Seven unit Powerhouse/Service Bay complex on the north side of Gull Rapids
Seven bay Spillway on the south side of Gull Rapids
23 km of dykes built on the north and south sides of the reservoir
Dams across Gull Rapids (North Dam = 99 m/ Central Dam = 1,600 m/ South Dam = 565 m)
The General Civil Contract (GCC), the largest contract on the Keeyask Project, was awarded to BBE Hydro Constructors Limited Partnership (BBE) in March 2014. BBE is a limited partnership of Bechtel Canada Co., Barnard Construction of Canada Ltd. and EllisDon Civil Ltd. Work covered by the Keeyask GCC includes:
Rock excavation;
Concrete for the powerhouse and spillway;
Earth structures;
Electrical and mechanical work; and
Construction and removal of temporary cofferdams needed to manage river flows during construction.
The Keeyask Transmission Project is occurring in parallel to construction of the Generating Station and is owned and managed by Manitoba Hydro.  The Keeyask Transmission Project provides the transmission and station facilities necessary to integrate the Keeyask Generating Station into the Manitoba Hydro 138kV transmission network. The main components include:
Three Generation Outlet Transmission (GOT) Lines;
Four unit transmission lines;
A new Keeyask switching station; and
Upgrades to the Radisson Converter Station.
A construction power station and transmission lines are also required to provide the Keeyask construction site with a permanent, reliable power source during construction.
Construction Progress
Keeyask construction update videos
Final update – January 2023
Update – December 2021
Update – February 2021
Update – July 2020
Update – March 2020
Update – August 2019
Update – December 2018
Update – July 2018
Update – April 2018
Update – November 2017
Update – July 2017
Update – May 2017
Update – November 2016
Update – May 2016
Update – February 26, 2016
Update – September 2015
Update – April 15, 2015
Update – December 12, 2014