The Keeyask Project will include the following principal structures:
Powerhouse/service bay complex (housing seven turbines) built across the north side of Gull Rapids;
Spillway (seven bays) built across the south side of Gull Rapids;
Dams across Gull Rapids (north/central/south);
Dykes built on the north and south sides of the reservoir; and
Transmission tower spur (the attachment point for a transmission line)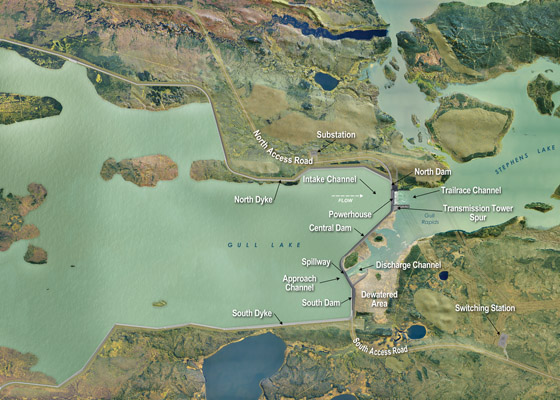 Total reservoir area of the Project will be approximately 93 square kilometers. The length of the reservoir will be approximately 40 kilometres.
Overall the flooded land area will be about 45 square kilometers and may gradually increase due to erosion.
View a virtual fly-over of the Generating Station
Project description
Project Description – Complete (20MB PDF)
Files below average 5MB in size.
Overview (PDF)
Section 1 Overview Maps & Figures (PDF)
Section 2-1 Infrastructure (PDF)
Section 2-2 Structures (PDF)
Section 3 Construction (PDF)
Section 6 Alternatives (PDF)