A Public Involvement Plan (PIP) was jointly developed by the KCNs and Manitoba Hydro in the fall of 2007 to guide engagement activities with Aboriginal communities and stakeholders beyond the in-vicinity KCNs.
Project engagement and consultation activities were provided at key stages in the environmental review and planning process. Three extensive rounds of information-gathering and consultation activities took place as part of the planning process.
Stages of Public Involvement for the Keeyask Generation Project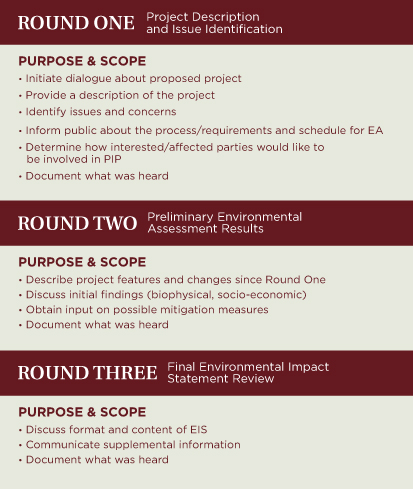 Round One of the Public Involvement Program
Round One PIP activities occurred between June 2008 and November 2008, focusing on communities in northern Manitoba and potentially interested/affected organizations. Its purpose was to:
Introduce the public to the proposed Project
Learn about any issues or concerns the public had about the Project and
Hear from the public how they wished to be consulted in future rounds of the PIP.
A variety of public involvement activities were used during Round One including:
Informal meetings with community leadership
Community information sessions following the meetings with the community leadership
Public open houses
Workshops and
Meetings with organizations.
Consultation focused primarily on communities in the Churchill-Burntwood-Nelson area beyond the Keeyask Cree Nations, including First Nations, Gillam, Thompson, Churchill, Leaf Rapids and Northern Affairs communities. In addition, open houses were held in Winnipeg and Brandon.
Round Two of the Public Involvement Program
Round Two of the Public Involvement Program occurred between February 2012 and May 2012. The focus of Round Two was to:
inform participants about changes in the Project from Round One
provide responses to questions raised in Round One
illustrate how the received input influenced the Project design and assessment
provide opportunity to participants to offer comments and provide input on preliminary results of the biophysical and socio-economic assessments of the Project and
encourage suggestions for avoiding or minimizing potential adverse effects.
The comments and input received in Round Two were used as part of finalizing the Environmental Impact Statement (EIS).
Round Three of the Public Involvement Program
Round Three occurred between April and July 2013. The focus of Round Three was to:
discuss the format and content of the EIS and how public input influenced the Project assessment
communicate supplemental information since the filing of the EIS with Regulators in 2012 and
document what was heard.
Round Three meetings were held with communities in the Churchill-Burntwood-Nelson area as well as with communities, organizations, and other Aboriginal groups that may be potentially affected by or interested in the Project. Public open houses occurred in Thompson and Winnipeg.
Results of Round Three were summarized in a report and filed as supplemental information for the regulatory process.